CMS has released the
proposed rules for Stage 3 of Meaningful Use
. The ONC also released a companion proposed rule outlining the
2015 Edition health IT certification criteria
that modifies the ONC Health IT Certification Program. The rules were published in the Federal Register on March 30, and public comments will be due by May 29th. HHS states that these proposed rules "will give providers additional flexibility, make the program simpler, and drive interoperability among electronic health records, and increase the focus on patient outcomes to improve care."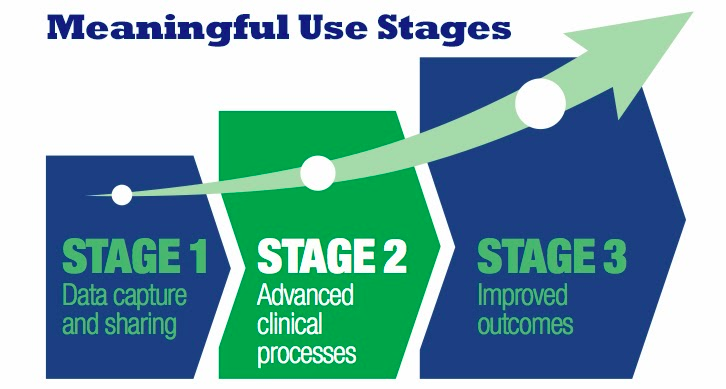 "The flow of information is fundamental to achieving a health system that delivers better care, smarter spending, and healthier people," said HHS Secretary Sylvia M. Burwell in a statement. "The steps we are taking today will help to create more transparency on cost and quality information, bring electronic health information to inform care and decision making, and support population health."
Experience has shown that over 90% of the rules will stay in the final version and we have some good insight already into certain aspects that are likely to be required. Basically the CMS rule on Stage 3 Meaningful Use is what providers and hospitals will need to do get an incentive payment and avoid a penalty, and the ONC rule on 2015 Edition Certification is what vendors must produce to enable providers to succeed. Below are some highlights of the proposed rules.
Stage 3 Meaningful Use
The meaningful use proposed rule from CMS defines what measures and objectives providers and hospitals must meet to receive an incentive payment or to avoid a penalty. The proposed rule changes the meaningful use reporting period to a full calendar year for both physicians and hospitals from 2017 onward. The only exceptions will be Medicaid EPs and hospitals that are attesting to meaningful use for the first time. These providers will still have a 90-day period.
Among the components of the proposed Meaningful Use Stage 3 rules are:
Starting in 2018, all providers will report on the same definition of Meaningful Use at the Stage 3 level, regardless of their prior participation.
All providers can use 2014 edition certified EHRs through 2017, but they must adopt 2015 edition technology by 2018. According to the proposed rule, stage 3 has a "simplified reporting structure," in which its objectives and measures will replace all stage 1 and stage 2 criteria.
While Stage 3 will be the final Meaningful Use stage, ONC and CMS will continue to modify the program's requirements in subsequent years to achieve further aims of the program.
In 2017, providers can remain in stage 1 or stage 2 or can attest in stage 3. But in 2018, all Medicare and Medicaid EPs and eligible hospitals will have to attest in stage 3, regardless of what stage they were in previously.
Starting in 2017, hospitals and providers will attest on a calendar year reporting period. Currently, hospitals attest on a fiscal year reporting period. The agencies may still require hospitals to report in the October 1–December 31, 2016 period "depending on future rulemaking."
Starting with Stage 3, providers are being required to implement five clinical decision support interventions related to four or more quality measures and report that as part of their Meaningful Use attestations. Such reporting is consistent with the intent of Stage 3 to move beyond process compliance toward improving clinical outcomes, using the care coordination and health information exchange technology made possible in Meaningful Use certified products.
The proposed rule will further align Meaningful Use with other CMS quality reporting programs that use certified technology, such as Hospital Inpatient Quality Reporting (IQR) and the Physician quality Reporting System (PQRS).
Medicaid providers demonstrating Meaningful Use for the first time will be able to report in any continuous 90-day period, instead of reporting in a calendar quarter.
Providers may remain on 2014-Edition certified technology through 2017. If they wish, they may opt to move to 2015-Edition certified EHRs for the 2017 calendar year in order to begin attesting for Stage 3 a year early, while others opt to remain at Stage 2 in 2017. In 2018, Stage 3 attestation would be mandatory for all.
While many menu options in Stage 2 become mandatory in the proposed Stage 3, numerous recommendations in the proposal provide various circumstances where providers may skip or fail certain objectives and still avoid certain downward payment adjustments.
Despite the many complaints of physicians around the difficulty of meeting the stage 2 requirements for care summary exchange at transitions of care and patient record sharing, CMS is significantly increasing the thresholds for those criteria in stage 3. For health information exchange there are three measures proposed:
Send electronic summary for 50 percent of Transitions of Care (TOC) and referrals;
Get electronic summary for 40 percent of TOCs and referrals; and
Perform medication, allergy, and problem list reconciliation for 80 percent of TOCs and referrals
Some additional highlights of the proposed stage 3 requirements include:
More than 25% of patients seen by an EP or discharged from a hospital or emergency department (ED) must "actively engage" with their electronic records.
For more than 35% of patients seen by an EP or discharged from a hospital or ED, a secure message must be sent using the EHR's secure messaging function or in response to a secure message sent by the patient.
Patient-generated data from a nonclinical setting must be incorporated into the EHR for more than 15% of patients seen by the EP or discharged from a hospital or ED.
EPs and hospitals must use their EHR to create a summary of care and electronically exchange it with other providers for more than 50% of transitions of care and referrals.
In more than 40% of these transitions of care, the provider has to incorporate in its EHR a summary of care from an EHR used by a different provider.
In more than 80% of transitions of care, the provider has to perform a "clinical information reconciliation" that includes not only medications and allergies, but also problem lists.
2015 Edition Standards and Certification
The Stage 3 Meaningful Use objectives and measure are tightly intertwined with the 2015 Edition Standards and Certification Criteria companion rules published by the ONC. The ONC rule decouples certification from meaningful use and eliminates the concept of a Complete EHR. The rule also no longer uses the term Certified EHR Technology but now uses the term Certification Health IT, expanding the types of technology for which certification applies. Going forward vendors of laboratory information systems, other ancillary systems, health information service providers and health information exchanges through certification would receive appropriate recognition of their abilities to support interoperability. In particular, vendors would be assessed on the ability of their products demonstrate application programming interface (API) functionality to support the exchange of a standard summary of care (C-CDA version 1.1 and 2.0.), using a new Common Clinical Data Set.
The proposed rule establishes new and voluntary 2015 Edition certification criteria for other health information systems, called Health IT Modules. A proposed Base EHR definition specific to the 2015 Edition includes fewer measures to report and targets care settings beyond the ambulatory and inpatient environments, such as long-term post-acute care, behavioral health and pediatrics. There is also a great deal of attention given to APIs as well as mention of FHIR. The expectation is that if the FHIR standards are available to be widely deployed by 2017 as expected then interim rule making will be published that will allow developers to incorporate this into certified products.
"ONC's proposed rule will be an integral component in the shared nationwide effort to achieve an interoperable health system," said Karen DeSalvo, MD, national coordinator for health IT in a statement. "The certification criteria we have proposed in the 2015 Edition will help achieve that vision through provisions that consider the range of health IT users and uses across the care continuum, including those focused on interoperable standards, data portability, improved transparency, privacy and security capabilities, and increased oversight through ONC's Health IT Certification Program."
At a high level the proposed rule for the 2015 edition of Health IT certification program requirements include:
Working toward a flexible certification program that supports developer innovation and focuses on interoperability
Adopting language and standards that allow for recording and exchange of electronic health information, including a well-defined Common Clinical Data Set
Enhancing data portability, transitions of care, and application programming interface capabilities in the 2015 Edition Base EHR definition
Adopting standards to help users address health disparities
Continuing to focus on the privacy and security of data by ensuring that health IT in line for certification meets privacy and security standards and addressing the exchange of information through the Data Segmentation for Privacy standard
Improving patient safety through user-center design principles, patient matching, the exchange of relevant electronic health information, certified health IT surveillance, and increased public availability of certified product information
Ensuring certified health IT is reliable and transparent by way of surveillance and disclosure requirements
The proposed health IT certification rules also seeks to clarify certain aspects of healthcare privacy and security. Specifically, ONC said that each Health IT Module presented for certification should be certified through one or more of the following three paths:
Demonstrate, through system documentation and certification testing, that the Health IT Module includes functionality that meets at least the "minimal set" of privacy and security certification criterion.
Demonstrate, through system documentation sufficiently detailed to enable integration, that the Health IT Module has implemented service interfaces that enable it to access external services necessary to conform to the minimal set of privacy and security certification criterion.
Demonstrate through documentation that the privacy and security certification criterion is inapplicable or would be technically infeasible for the Health IT Module to meet.
A major focus of the proposed rule is broadening the scope of certification to include new practice settings beyond the meaningful use program. There are 68 individual certification requirements described by the ONC which are spelled in Appendix A of the proposed rule. Only 36 of the 68 requirements are required for meaningful use, so clearly there is going to be a continued effort to leverage certification for other programs and purposes.